Lady Fingers Savoiardi Tiramisu Cake
Lady Fingers Savoiardi Tiramisu Cake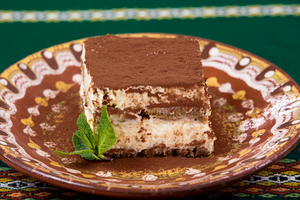 What is Lady Finger Savoiardi Biscuits?

Lady fingers savoiardi biscuits are pleasant, delicate sponge cake biscuits utilized in sweets like tiramisu. In Italy, they are known as savoiardi, or sponge fingers. You can discover them in some Italian online grocery stores or make them at home and set up the best tiramisu with these lovely little lady fingers.

We're going to make today Chocolate Lady Fingers Savoiardi Tiramisu Cake, so let's see the needed ingredients to start.

Lady Fingers Savoiardi Biscuits Recipe
For this recipe, we need:


500 ml heavy cream,
400 g ladyfingers savoiardi biscuits,
500 ml sweetened Kimbo coffee,
150 g icing sugar,
500 g Mascarpone cheese,
200 g dark chocolate,
3 tbsp of cocoa powder, 
a pinch of kosher salt
First of all, melt the chocolate on bain-marie. On low heat, stir continuously to melt the chocolate. When the chocolate has melted, now it's time to remove it from the heat and leave it aside to cool it down for at least 10 min. 
Next, put the Mascarpone cheese into a mixer bowl, add the icing sugar, and a pinch of salt. Mix well to combine the Mascarpone and the sugar. Add the melted chocolate, and mix it for 2-3 min. More. The Mascarpone cream is done. Leave it aside and whip the heavy cream.
Then, pour the chilled heavy cream into a mixer bowl, and beat it until firm peaks form. Do not overbeat it, as it may easily split. The whipped cream is done. It should be like this. It must be firm enough but not overbeaten. Gradually add the whipped cream to the Mascarpone one. Slowly fold it into the cream. Dip the lady fingers savoiardi biscuits into the coffee, place them into a baking tin all around and over the base. 
Add a layer of cream, level it, add a new layer of lady finger biscuits dipped into coffee, sprinkle a rich layer of cocoa powder, and put another layer of cream again.  Put the remaining cream into a piping bag and make rosettes all over the cake. Sprinkle cocoa powder. Put it inside the fridge for about 6 hours or best overnight. 
After 6 hours, the cake is made so that the ring can be removed. Remove it carefully. Now it can be served. I sliced the cake to show you a piece of it. It looks very nice. Let's see the texture. So I'm going to taste it. It is delicious, airy, easy to make, and it's worth trying. We reached the end of this recipe. We wish you Bon Appetit! and we are waiting for you on the following formula. Bye-bye!


Here's another version of Making Lady Fingers Biscuits Tiramisu:


Today we prepare the Savoiardi Tiramisu and, more precisely, two recipes, the original Italian tiramisu with lady fingers biscuits, according to the recipe original of its inventor, which you can also find here—our recipe, which contains some exciting variations. We will also provide you the recipe for ladyfingers and start immediately to prepare the original Italian tiramisu with savoiardi biscuits. 
We have to mount 12 large yolks or pasteurized yolks with 500 grams of granulated sugar whisk with medium-high speed whisk for a few minutes until a foamy mixture is obtained. Add a kilo of mascarpone, and we still whisk at high speed until all the lumps of mascarpone have disappeared; we prepare some espresso or with the unsweetened mocha for a total of about 250 milliliters and then let it cool. 
We place the Savoiardi Tiramisu in the center of a circular plate or, in this case, in an 18 x 8 cm container. First, spread a layer of cream and then a layer of lady finger biscuits for a total of 60 soaked in coffee without drenching them too much, or you can use Savoiardi biscuits  packaged or homemade ones remembering that the homemade ones are thin. Therefore you can also decide to use a double layer of lady finger biscuits.
  We will provide you how to prepare the Savoiardi biscuits recipe. Then we alternate cream states with mascarpone with layers of Savoiardi biscuits soaked in coffee to end with simple decoration with cream a generous sprinkling of bitter cocoa in powder. Here is the  recipe of Savoiardi Tiramisu we prepare; 
A syrup with 120 milliliters of water and 200 grams of caster sugar shows you how you can use the fresh yolks in complete safety.  Mix to dissolve the sugar and proceed with cooking over medium heat until sugar will reach a temperature of 121 ° C when sugar is almost to the point of cooking. Start whipping six large yolks as soon as the sugar comes 121 ° C. Pour it flush into the yolks without stop blending slightly, lowering the speed, and then reporting speed at top speed until the mixture is icy. 
Let's move on to high-speed 500 grams of mascarpone with 500 grams of fresh cream creating a firm cream. We gradually increase the speed up to the maximum speed, then we mix the two compounds gently with circular movements from the bottom until obtaining a smooth and very soft cream.
 Add the mascarpone cream in two portions allows us to keep the mixture better soft and fluffy. Cut into flakes. Add 150 grams of dark chocolate, or if we want, we can also use chocolate chips. We prepare espresso, or all slightly elongated mocha moderately sweetened for a total of 250 milliliters and let it cool down. 
Assemble the Savoiardi Tiramisu just like the previous one. Then the first layer of cream of Savoiardi moderately soaked in espresso another cream. This time, we will sprinkle the dark chocolate, then again Savoiardi biscuits, cream, dark chocolate Savoiardi, and end with a simple decoration created with a smooth spout and bitter cocoa powder.