Delicious Mushroom Gnocchi Recipe.
Delicious Mushroom Gnocchi Recipe.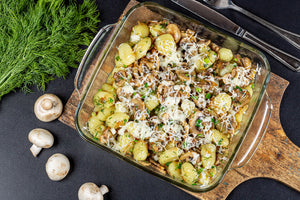 Delicious homemade potato gnocchi with garlic and butter mushrooms.
Potato Gnocchi is a dish with the use of two delicious mushrooms anyone can find safely at your grocery store. paring and cooking mushroom.
LIST OF INGREDIENTS:
For Mushrooms
100g shitake
100g Oyster
Mushrooms salt and black pepper to taste 2 1/2 tsp.
Butter 5 thyme stalks - just the leaves
1 medium garlic
For Potato gnocchi pasta :
630g all-purpose golden potato or Russet
1/2 to 3/4 cup of wheat flour
1 yolk 2 tbsp
2 tbsp Parmigiano Reggiano or Grana Padano
Latteria Butter 1/2 bunch
Sage Chopped parsley to finish Elle EsseTruffle Oil 
black pepper to taste

How to prepare and cook any new mushrooms you are working with. Both the oyster and shiitake mushrooms cook quickly, which will go well with cooking your gnocchi di patate. So, for our gnocchi di patate dough, you can use gold all-purpose potatoes. You can also use a russet. About 630 grams of potatoes.
You can a cut in the middle to help peel them after. You can boil them until soft or bake them but prefer to bake them.
Pierce the potatoes with a knife or fork to allow moisture to escape when baking.
Bake it for 45 to 50 minutes. They should be soft and completely cooked. Peel your potatoes and press them through a potato ricer or potato masher.

If you don't have a potato slicer, which is the best for it. You can just use a potato masher. Place the potatoes over a flat surface. season with salt and pepper. Some people don't season now, but I found it helps add flavor.

Add one egg yolk. I also like to add some Parmigiano Reggiano about 2 tsp. For the flour, 1/2 a cup to a 3/4 cup. I started with half a cup of flour. When you start to combine the dough, you will notice how much more you need. Don't knead the dough, just combine it gently.

You don't want it tough. You know it's ready when you try to form a ball with the dough and it doesn't stick to your hands. Divide the dough into two. Roll with starting with the palms and finishing with the fingers.

Roll until your dough is about 1,5 centimeters thick. Cut small pieces like pillows -  about 2 centimeters. There are some more traditional shapes for gnocchi di patate, but I like to just keep it simple.

So for mushrooms, when cleaning, it's important not to get them too wet, because they will absorb too much water and become soggy.

You can wipe them down with a wet cloth to remove dirt, but if you must wash them, you can run water over them quickly and dry them.

Make sure to shake off any excess water and dry them with paper toil or a clean cloth. So for shitake mushrooms, you want to cut off the stems - they're not edible.

Cut it at the base like that, leaving just a cap. For the oyster, cut off about half of the stem. You can tear them with your hands like this and cook them over a frying pan. They get crispy! I will just do a few this way as a flavor boost and keep the others as whole pieces.

I love oyster mushrooms because they don't taste too earthy and the mild flavor makes them good to combine with any dish. For shiitake just slice them all at a medium thickness. And shiitakes are my favorite because they taste so similar to meat.

We will need some sage about half a bunch, Five stalks of time picked one minced garlic. some chopped parsley leaves for garnishing. Start to bring about 3 liters of water and salt to a boil for your potato gnocchi.

Over medium heat, in a medium saucepan or non-stick pan, add some olive oil add 1/4 of the minced garlic. add the sliced oyster, cook them a bit and add salt and pepper to taste.

A little bit butter about 1/2 a teaspoon. Add some of the thyme and cook until golden and lightly crispy. On the same pan over medium heat add about 1 tsp of olive oil again. add the remaining garlic and oyster mushrooms.

Cook a bit and add the shitake. Add salt and pepper to taste. Add a splash of white wine. Reduce the liquid and add the remaining thyme. Add about one tsp. of butter.

Cook until the mushrooms are nice and tender. Don't cook too much, they cook very fast. Back to our boiling water add the potato gnocchi and let them cook until they float to the top. Add just a few at a time, do not overcrowd them as they will stick together. It's very fast.

Take them out right away. You can add them to a strainer. In a saucepan over medium heat add some extra virgin olive oil, about one tsp. And add about two tbspso f cold butter. Add sage.

Cook a little and add the potato gnocchi. Cook them into golden brown and add the mushrooms at the very end. Combine well to incorporate all the flavors. And heat the mushrooms serve with the sliced oyster on top, chopped parsley and if you want this is optional, I love to add some Elle Esse White truffle oil.

Mushrooms take on flavors so well they are great with almost anything. !Now you have a yummy creamy Gnocchi Di Patate with mushrooms for your family needs.