Fusilli Creamy Spinach and Mushroom Pasta
Fusilli Creamy Spinach and Mushroom Pasta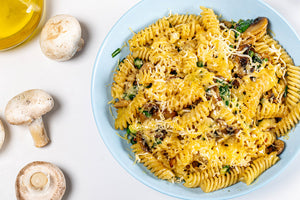 Fusilli Creamy Spinach & Mushroom Pasta
Ingredients
2

 

cups

 fusilli

 pasta

 

225 grams

2

 

tbsp

 

extra virgin olive oil

 

30 ml

4

 

cloves

 

garlic finely minced

1/2

 

onion finely diced

8

 

button mushrooms

2

 

cups

 

fresh spinach

 

100 grams

3/4

 

cup

 

Greek yogurt

 

214 grams

1/2

 

tsp

 

sweet smoked Spanish paprika

 

1.30 grams

black pepper

handful

 

freshly chopped parsley
We are making a very healthy Italian pasta dish named Fusilli that's very easy to make uses simple ingredients and comes together in under 30 minutes. We're talking a creamy spinach and mushroom Italian pasta like Fusilli. This dish has it all it is loaded with protein. Thanks to the Greek yogurt and spinach the mushrooms.
They have a beautiful meaty texture and the flavors are mind-blowing. This is the perfect Italian pasta dish for one of those busy weeknights yet it's bold enough for a relaxed weekend lunch next to a bottle of Spanish white wine.
Let's begin by adding in some cold water into a stockpot. You want to go to at least the halfway point. I'm gonna season the water generously with sea salt and heat it with a high heat while the water is heating up. Let's get our ingredients ready.
I'm gonna cut eight button mushrooms into slices that are about a quarter inch thick these have already been washed and patted dry and once again you want the mushrooms to be at least a quarter inch thick it's what gives this pasta dish name Fusilli that beautiful meaty texture.
I'm gonna grab two cups of tightly packed fresh spinach once again. I'm using bagged spinach because it's pre-cleaned and pre-cut but you can also use frozen spinach here. Just make sure you fully thaw it out and pat it completely dry add the spinach into a cutting board and roughly chop it up and reserved.
 I also have half of an onion that i finely diced and four cloves of garlic that I finely minced okay let's start cooking up these ingredients. I'm gonna heat a large saute pan with a medium to medium-high heat and add in a generous two tablespoons of extra virgin olive oil after heating the olive oil for about two minutes.
I'm going to add in the diced onions into the pan and the minced garlic and start mixing the onions and the garlics around with that extra virgin olive oil you want to mix this continuously that way nothing burns and everything cooks evenly after about three minutes and those onions are nice and translucent and starting to develop a light golden color.
I'm gonna add in the slices of mushroom into the pan and continue to mix these ingredients together after about three minutes and those mushrooms are nice and  don't want to overcook them.
I'm going to add in a generous half teaspoon of sweet smoked Spanish paprika give it a quick mix that way the paprika is evenly divided and start adding the spinach into the pan you want to add it in there in batches to not overcrowd it.
Just mix it around that way the spinach easily wilts once all the spinach has been incorporated into the pan. It's nice and wilted I'm going to turn off the heat  and season everything with sea salt and freshly cracked black pepper and once again.
I'm going to give this a quick mix that way all the seasonings are evenly mixed around at this point the water has began to boil in the stockpot . I'm going to add in a generous two cups of penne pasta this recipe feeds two people one cup per person.
Make sure to check the package instructions and cook your pasta al dente because there's nothing worse than overcooked pasta while the penne pasta is cooking up .
Let's move back to the saute pan with the spinach and the mushrooms for the next step. I'm going to add in one and a half containers of Greek yogurt at room temperature this equals about three quarters of a cup of Greek yogurt. Once again make sure it's at room temperature otherwise it will curd and also you can easily veganize this recipe by using a vegan yogurt here.
 I'm going to generously season the Greek yogurt with some freshly cracked black pepper and mix everything together that way all these ingredients are perfectly combined together all right let's move back to the fusilli pasta. It's been cooking for exactly nine minutes which in my case is perfectly al dente.
I'm gonna grab the stockpot drain it into a strainer making sure to shake off any of the excess water from the fusilli pasta. Add the pasta into the pan with the creamy spinach and mushroom sauce heat this with a low heat and mix everything together until it's well combined. Once everything's well mixed and that sauce has slightly heated up our dish is ready to go.
I'm going to grab some of our fusilli pasta transfer it into a dish and sprinkle it with some freshly chopped parsley check it outlook how incredible this creamy spinach and mushroom fusilli pasta came outlet's give this a try. You can see how it turned out now this is what i call one heck of a beautiful creamy looking pasta i cannot wait to try this. I mean that is seriously one of the best pasta dishes. 
I've ever tasted so many great flavors that little amount of sweet smoked Spanish paprika that weadded really shines through the noodles are perfectly cooked al dente so important to cook them al dente.
Make sure to check those packing instructions you know this kind of feels like comfort food but it's not we didn't use the heavy cream we used that beautiful Greek yogurt. This is such an incredible pasta dish you saw this easy to make very healthy and comes together in under 30 minutes really quick before