Easy Taggiasca Olive Tapenade
Easy Taggiasca Olive Tapenade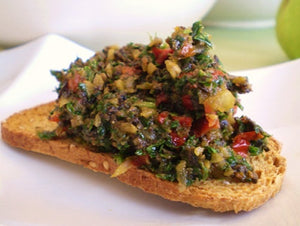 Easy Taggiasca Olives Tapenade
Make this easy taggiasca olive tapenade for your next party.
You can serve this with a sandwich, or pizza garnish. Or maybe a dip for your cheesy fries? Or for chicken salad.
You will require a few ingredients. It will get ready in 5 min. Jump to recipe!
 I promise true happiness can found in a bowl of olives tapenade.
Course: Appetizer
Ingredients:
1 ½ cup of Cibus Direct Taggiasca Olives
1/2 tablespoon capers
1 teaspoon anchovy paste
2 anchovy filets
1/8 teaspoon black pepper
1 garlic clove
3 tablespoon of lemon juice
1/4 teaspoon of salt
1/3 cup Italian extra virgin olive oil
Directions:
In the food processor combine Cibus Direct Taggiasca Olives, capers, anchovy, anchovy filets, garlic clove. Pulse 1 to 2 times.
Drizzle olive oil and pulse for 2 times. A chunky paste forms. Add lemon juice, scrapping down the sides as needed.
Season to taste with black prepare and salt.
Total Calories: 165