How to cook the perfect Tiramisu Cake with Ladyfingers?
How to cook the perfect Tiramisu Cake with Ladyfingers?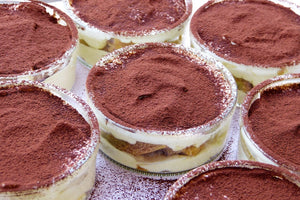 What is Tiramisu?

Timanisu (tirami su is in Italian) which means "cheer me up" or "pull me up" which is appropriate as this makes your mood change. An authentic Tiramisu cake with ladyfingers has 2 main layers which are lady finger cookies soaked in coffee and cream and you put the mascarpone on a layer.
This is a classic Italian dessert that is often used with raw eggs or you can use a custard-like cream to get amazing flavor and texture. The Tiramisu cake is a coffee-flavored Italian dessert that is made of lady fingers cookies dipped in coffee, layered with mascarpone cheese, a mixture of sugar, eggs, and flavored cocoa. It can be prepared in many ways to make tiramisu. There are many versions of this delicious Tiramisu.
Ingredients You Will Need:

Ladyfingers: Divella Brand
Mascarpone: You can substitute mascarpone with cream cheese. it wouldn't be true tiramisu without the mascarpone.
Coffee: Kimbo Espresso
Heavy Whipped Cream
Granulated Sugar
Vanilla Extract: You can substitute with imitation vanilla
Cocoa Powder: For dusting on top

Can I Substitute the Rum?
You can be used golden rum but I suggest using dark rum. You can substitute the rum with little amaretto, or Grand Marnier. You can also omit the alcohol for those who don't like to put alcohol by adding a little bit of vanilla extract to taste.

What are Tiramisu Lady fingers?
The famous Ladyfingers from Divella are well-known brand in Italy. They are known "savoiardi" in Italian and are perfect for Tiramisu lady fingers because they absorb the syrup well without getting soggy or soft easily. Savoiardi Lady fingers cake are essentially sponge cake batter piped into small stripes, baked, and made into biscuits. They are great in other no-bake ingredients such as Mousse Cups, Charlotte Cake, and even Trifle.

Where to Find Lady finger Cake?
You can buy Lady fingers from an Italian online store named Cibusdirect.com and they can be delivered to your home in the US. It is easy to order lady fingers online but if you prefer you can make a homemade as well. Suggested recipe is tiramisu cake with ladyfingers.
How to Make Tiramisu:

First, you will prepare the egg custard. Prepare 3 egg yolks and You will add 50 grams of sugar, stir well until sugar dissolves. And then You will put in 10 grams of corn starch.

Remember to sieve to remove all lumps. And then You will stir well Until all the sugar and flour are gone. Now You are going to heat the milk and put in the pot 80ml of fresh unsweetened milk and 100 ml of whipping cream.

Have a concentration of 35 percent fat or more. And You will stir it well and remember to just warm up. You don't want to boil this portion of milk. After put it in the pot and then You'll go to the stove and stir this custard mixture until thick.
Remembers you'll turn off the heat as soon as you see the mixture begin to thick. And now that the mixture is ​​start thickening, You will be going to lift it off the stove and keep mixing until it's smooth to eliminate any lumps. You are going to sieve this mixture.

This is a very important step to make your cream smooth. After finishing sieving, You will add 5g of vanilla to this mixture and you will stir it well. And then you will use plastic wrap to wrap this egg mixture and refrigerate for at least 2 hours. Let this egg mixture cool deeply And now I started to prepare the coffee.

You will use a package of instant coffee like this. In 1 package like this, about 16g, you can put in 5gOr 5ml of rum or brandy . You can use brandy and 50 ml of hot water and stir well until the coffee powder is dissolved.

And after the egg-cream mixture is deeply cold, You will start to prepare the cream. Here You have mascarpone cheese 200g at room temperature. You will put in 20ml of rum and mix well.

You will just need to use a spoon like this to mix the mascarpone and cheese mixture well. You will add the chilled custard need to mix well for these 2 mixtures to blend. It forms a very soft cream.

When I have a shop, in the winter You usually increase the amount of rum to be 30ml or 40ml like that, the cold winter you eat feels very warm. And now you will assemble the cake. You will use about 10 savoiardi lady fingers cake and you will be dipping it double-sided coffee is very fast.

If you assemble the cake, you will assemble a layer of cake and a layer of cream and now you are going to add the layer of cream. You keep going like that, for one mold you can use two layers of cake and 2 layers of cream continue dipping in the coffee very quickly, and then add another layer of cream can still have the leftover in a small mold or a small tiramisu cup for today's recipe.

Remember after you finished, you should put these in the refrigerator this mixture be cold, and later when you are about to eat it, then take it out and sift the cocoa powder. This is after two hours in the refrigerator now It is ready to eat.

Now you are going to add cocoa powder remember to sift through a sieve to make the cocoa powder smooth will sift like this into the cake and you can eat like this right away or you can decorate more fruits on top to make the cake more appealing.
Today you will quickly decorate the fruits that you will have at home these include cherries, blueberries, and raspberries, and some more basil leaves give it another, beautiful red-green :)So your tiramisu lady fingers is done looks very beautiful and attractive, isn't it?

Make a Head and Freezing Instructions:

Tiramisu cake with lady fingers is better if you prepare in advance, as you allow the flavors to blend well!. You need to keep it in the refrigerator for about 2 to 3 days.
To freeze but not completely, you will not dust with cocoa powder. You will only dust with cocoa powder a few hours before serving. You have to cover tightly with plastic wrap, the tinfoil. You can freeze up to 3 months or less. You must thaw in the refrigerator overnight when you plan to eat the next day.