Divella Spaghetti with Sun dried Tomatoes.
Divella Spaghetti with Sun dried Tomatoes.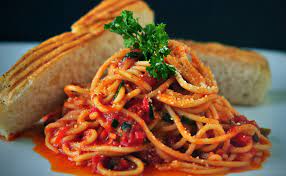 Divella Spaghetti with Sun dried Tomatoes.
An easy-to-follow spaghetti dish yet mouthwatering and flavorful, It is a simple meal but a remarkable recipe for a special occasion and also best for an ordinary and regular busy day. 
What you will be needing are simple, few, and easy to find ingredients. This is easy to prepare as it would take much less than time to be ready.
About Divella - For one hundred thirty years Divella has been one of the biggest producers of pasta all over the world. Divella's productions comes with their conventional and traditional way, improved with skills, training, and expertise on the way to perfection, and technology and advancement to sophisticated quality production outcome.
Divella Spaghetti - It is a healthy Italian pasta, and is well-known all around the globe because of the scrumptious string of pasta that may be blended with any sauce. Divella Spaghetti contains vitamins and minerals such as Iron, Vitamin B, etc. Ingredients are durum wheat semolina, niacin, iron, thiamine mononitrate, riboflavin, and folic acid.
How to cook perfect Divella Spaghetti pasta with Sun dried Tomatoes?
Prepare a large pot, put 500ml to 1liter of water depends on the capacity of your pan this is per 100g of dried pasta. Make sure that the pan is not full of water so there will be enough space for bubbles when boiling and it will not overflow. 

When the water is boiling, add Divella spaghetti the salt, and a splash of olive oil. 

Taste a strand of pasta after around 8 mins. (before tasting be sure to let it cool first). If you think it's already cooked, turn off the heat. If not, continue cooking then taste again after another minute. Usually, for Divella Spaghetti it's between 8 to 10 mins. 

Once it's cooked, take it out from the water and allow it to dry for a couple of minutes before mixing the sauce.
Ingredients
Instructions
Fill a large saucepan with cold water, bring to a boil, and then put in the salt,

extra olive oil

, and spaghetti. Refer to my instructions above on how to make your spaghetti al dente.

When Divella spaghetti is al dente, set the heat on low, add a little bit of extra virgin oil to a large cooking pan. You can use

Divella gluten-free spaghetti

or

Divella spaghetti #8

, whichever you prefer. 

Stir and add the chili flakes and chopped garlic and the seasonings (salt and pepper), then, continue stirring. 

In a separate cooking pan, pour and heat the

sun dried tomatoes

in oil by Iposea in the pan for one minute or less. Make sure the pan is big enough for the cooked pasta if blended in with the sun-dried tomatoes. 

Adjust it to low fire, add the cooked pasta, stir and blend it well. 

Toss the Divella spaghetti all over the sun-dried tomatoes until it's all coated.

Put the parsley, mix a little then transfer to a serving plate. 

Grate the

Parmigiano Reggiano

and sprinkle it into the spaghetti with sun sundried tomato 

Serve and Enjoy!