Penne all' Arrabbiata : Spicy Italian Tomato Pasta
Penne all' Arrabbiata : Spicy Italian Tomato Pasta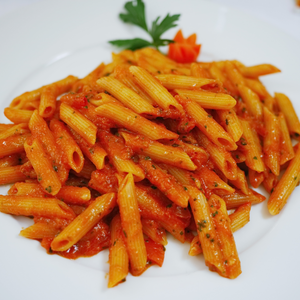 Penne all'Arrabbiata (serving 2-3 people)
       Penne all'Arrabbiata is a simple Italian pasta recipe made with penne in a beautiful Italian spicy tomato sauce that's super quick and easy. This is a popular traditional dish of Roman and Lazio Cuisine. The secret of Penne all'Arrabbiata is the balance between the freshness taste of tomatoes and the spiciness of Chili peppers.
All year round Italian favorite pasta recipe named Penne All'Arrabbiata
Divella Penne Rigate 320g – 11oz
Divella Dried peeled tomatoes 380g – 13.5oz
Garlic 1 wedge
Dry chili 3pieces
Parsley as needed
Cirio Extra virgin olive oil taste it
Kosher Salt
Steps:
To prepare the penne all' arrabbiata firstly drain the peeled tomatoes. Then transfer them to a bowl and mash them with a fork.
At this point chop the dried chili with a knife, or crumble it with your hands. Put on the fire a pot full of water, salted to taste, for cooking the pasta.
Pour a touch of Cirio oil in a pan, add the peeled garlic, the chili and let it gently brown.
Add the tomatoes, mix everything and season with salt. Then cover with a lid and cook for about 12 minutes, stirring occasionally.
When the sauce is almost cooked, cook the pasta al dente, following the cooking times shown on the package.
After 12 minutes, remove the lid and remove the garlic.
Drain the pasta and transfer it directly to the sauce and add cooking water if necessary.
Add the chopped parsley, mix one last time and serve your penne all' arrabbiata; For the cheese lovers I would always recommend a touch of grated Latteria Soresina Parmigiano Reggiano.
BUON APPETITO!!!