Spaghetti alla Carbonara
Spaghetti alla Carbonara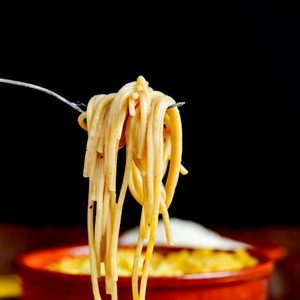 Spaghetti alla Carbonara (serving 2/3 people)
Spaghetti alla Carbonara is an Italian pasta dish famous in Rome, Italy. This is made of egg, hard cheese, black pepper and cured pork. The cheese that you usually choose for this pasta are Pecorino Romano, Grana Padano, or Parmigiano Reggiano. The silky Carbonara sauce is created when the beaten eggs are mixed with little fat from the pancetta or bacon. The name Spaghetti Carbonara is derived from the word carbonaro which means "charcoal burner" in Italian, and some believe that this dish was made for Italian charcoal workers.
 Ingredients
Divella Spaghetti 320g – 11oz
Guanciale 150g – 5oz
Egg yolks from 6 eggs
Pecorino Romano 50g 1.75oz
Black pepper as needed
Steps:
Start by putting a pot of salted water on the fire to cook the pasta. In the meantime start cutting the Guanciale into slices and then into strips about ½ inch long thick 1.
Pour the pieces into a non-stick and pan seared them for about 15 minutes over medium heat, be careful not to burn it otherwise it will release too strong of aroma.
Dip the spaghetti in boiling water and cook them for the time indicated on the package.
Pour the yolks into a bowl and add most of the Pecorino indicated in the ingredients, the remaining part will serve to garnish the pasta.
Season with black pepper and add a spoon of cooking water to dilute the mixture
Mix everything with a hand whisk till all the ingredients are blended together.
Meanwhile, the bacon (Guanciale) will be cooked, turn off the heat and keep it aside.
Drain the pasta al dente directly in the pan with the Guanciale and sauté it briefly to flavor it.
Remove it from the heat and pour the mixture of eggs and Pecorino into the pan. Stir quickly to mix.
To make it very creamy, if necessary, add a little cooking water from the pasta. Serve the spaghetti carbonara.
Garnish with the leftover Pecorino and ground black pepper as you like.